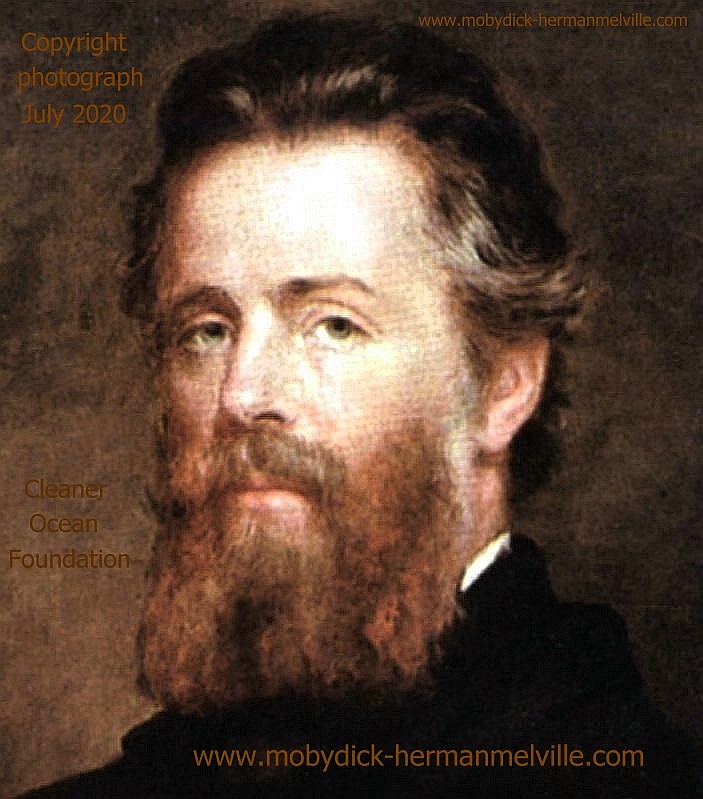 Herman Melville was the author of a story about what we'd now consider an illegal activity, the commercial hunting of whales for oil and meat. Whaling is still carried out by Japan, Iceland and Canada, among other nations, though most nations voluntarily abstain in the interests of conserving these magnificent animals - as per International Whaling Commission guidelines.
Back <<<

CHAPTER 127. The Deck

THE COFFIN LAID UPON TWO LINE-TUBS, BETWEEN THE VICE-BENCH AND THE OPEN HATCHWAY; THE CARPENTER CAULKING ITS SEAMS; THE STRING OF TWISTED OAKUM SLOWLY UNWINDING FROM A LARGE ROLL OF IT PLACED IN THE BOSOM OF HIS FROCK.—AHAB COMES SLOWLY FROM THE CABIN-GANGWAY, AND HEARS PIP FOLLOWING HIM.

"Back, lad; I will be with ye again presently. He goes! Not this hand complies with my humor more genially than that boy.—Middle aisle of a church! What's here?"

"Life-buoy, sir. Mr. Starbuck's orders. Oh, look, sir! Beware the hatchway!"

"Thank ye, man. Thy coffin lies handy to the vault."

"Sir? The hatchway? oh! So it does, sir, so it does."

"Art not thou the leg-maker? Look, did not this stump come from thy shop?"

"I believe it did, sir; does the ferrule stand, sir?"

"Well enough. But art thou not also the undertaker?"

"Aye, sir; I patched up this thing here as a coffin for Queequeg; but they've set me now to turning it into something else."

"Then tell me; art thou not an arrant, all-grasping, intermeddling, monopolising, heathenish old scamp, to be one day making legs, and the next day coffins to clap them in, and yet again life-buoys out of those same coffins? Thou art as unprincipled as the gods, and as much of a jack-of-all-trades."

"But I do not mean anything, sir. I do as I do."

"The gods again. Hark ye, dost thou not ever sing working about a coffin? The Titans, they say, hummed snatches when chipping out the craters for volcanoes; and the grave-digger in the play sings, spade in hand. Dost thou never?"

"Sing, sir? Do I sing? Oh, I'm indifferent enough, sir, for that; but the reason why the grave-digger made music must have been because there was none in his spade, sir. But the caulking mallet is full of it. Hark to it."

"Aye, and that's because the lid there's a sounding-board; and what in all things makes the sounding-board is this—there's naught beneath. And yet, a coffin with a body in it rings pretty much the same, Carpenter. Hast thou ever helped carry a bier, and heard the coffin knock against the churchyard gate, going in?

"Faith, sir, I've—"

"Faith? What's that?"

"Why, faith, sir, it's only a sort of exclamation-like—that's all, sir."

"Um, um; go on."

"I was about to say, sir, that—"

"Art thou a silk-worm? Dost thou spin thy own shroud out of thyself? Look at thy bosom! Despatch! and get these traps out of sight."

"He goes aft. That was sudden, now; but squalls come sudden in hot latitudes. I've heard that the Isle of Albemarle, one of the Gallipagos, is cut by the Equator right in the middle. Seems to me some sort of Equator cuts yon old man, too, right in his middle. He's always under the Line—fiery hot, I tell ye! He's looking this way—come, oakum; quick. Here we go again. This wooden mallet is the cork, and I'm the professor of musical glasses—tap, tap!"

(AHAB TO HIMSELF.)
"There's a sight! There's a sound! The grey-headed woodpecker tapping the hollow tree! Blind and dumb might well be envied now. See! that thing rests on two line-tubs, full of tow-lines. A most malicious wag, that fellow. Rat-tat! So man's seconds tick! Oh! how immaterial are all materials! What things real are there, but imponderable thoughts? Here now's the very dreaded symbol of grim death, by a mere hap, made the expressive sign of the help and hope of most endangered life. A life-buoy of a coffin! Does it go further? Can it be that in some spiritual sense the coffin is, after all, but an immortality-preserver! I'll think of that. But no. So far gone am I in the dark side of earth, that its other side, the theoretic bright one, seems but uncertain twilight to me. Will ye never have done, Carpenter, with that accursed sound? I go below; let me not see that thing here when I return again. Now, then, Pip, we'll talk this over; I do suck most wondrous philosophies from thee! Some unknown conduits from the unknown worlds must empty into thee!"
Next >>>

BOOK CHAPTERS
CHAPTER 26. Knights and Squires.
CHAPTER 27. Knights and Squires.
CHAPTER 29. Enter Ahab; to Him, Stubb.
CHAPTER 39. First Night Watch.
CHAPTER 40. Midnight, Forecastle.
CHAPTER 42. The Whiteness of The Whale.
CHAPTER 48. The First Lowering.
CHAPTER 50. Ahab's Boat and Crew. Fedallah.
CHAPTER 54. The Town-Ho's Story.
CHAPTER 55. Of the Monstrous Pictures of Whales.
CHAPTER 56. Of the Less Erroneous Pictures of Whales, and the True
CHAPTER 57. Of Whales in Paint; in Teeth; in Wood; in Sheet-Iron; in
CHAPTER 61. Stubb Kills a Whale.
CHAPTER 65. The Whale as a Dish.
CHAPTER 66. The Shark Massacre.
CHAPTER 71. The Jeroboam's Story.
CHAPTER 73. Stubb and Flask Kill a Right Whale; and Then Have a Talk
CHAPTER 74. The Sperm Whale's Head—Contrasted View.
CHAPTER 75. The Right Whale's Head—Contrasted View.
CHAPTER 76. The Battering-Ram.
CHAPTER 77. The Great Heidelburgh Tun.
CHAPTER 78. Cistern and Buckets.
CHAPTER 81. The Pequod Meets The Virgin.
CHAPTER 82. The Honour and Glory of Whaling.
CHAPTER 83. Jonah Historically Regarded.
CHAPTER 88. Schools and Schoolmasters.
CHAPTER 89. Fast-Fish and Loose-Fish.
CHAPTER 91. The Pequod Meets The Rose-Bud.
CHAPTER 94. A Squeeze of the Hand.
CHAPTER 98. Stowing Down and Clearing Up.
CHAPTER 102. A Bower in the Arsacides.
CHAPTER 103. Measurement of The Whale's Skeleton.
CHAPTER 104. The Fossil Whale.
CHAPTER 105. Does the Whale's Magnitude Diminish?—Will He Perish?
CHAPTER 108. Ahab and the Carpenter.
CHAPTER 109. Ahab and Starbuck in the Cabin.
CHAPTER 110. Queequeg in His Coffin.
CHAPTER 115. The Pequod Meets The Bachelor.
CHAPTER 120. The Deck Towards the End of the First Night Watch.
CHAPTER 121. Midnight.—The Forecastle Bulwarks.
CHAPTER 122. Midnight Aloft.—Thunder and Lightning.
CHAPTER 125. The Log and Line.
CHAPTER 128. The Pequod Meets The Rachel.
CHAPTER 131. The Pequod Meets The Delight.
CHAPTER 133. The Chase—First Day.
CHAPTER 134. The Chase—Second Day.
CHAPTER 135. The Chase.—Third Day.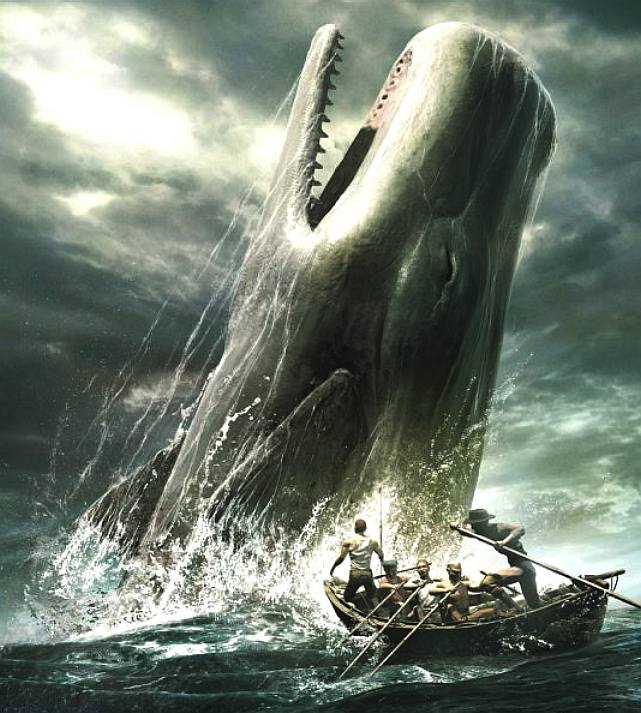 Moby Dick is the antogonist in this story of a great white 'bull' sperm whale that fought back at whalers who tried to harpoon him.
The idea came to Herman Melville after he spent time on a commercial whaler, where stories abounded of the sinking of the Essex in 1821 and Mocha Dick, a giant sperm whale that sank around 20 ships, before being harpooned in 1838.
Herman realised how fixated the sailors became, and he also became with the thought that there was a whale that nobody could catch, that represented a real risk to the whalers hunting whales, in that it was more sport than commercial operations.
Without any doubt this is one of the greatest novels coming out of America at this time and way off the beaten track, making it so interesting, reflecting the state of whaling and the economic importance in the developing the nation - giving the general public a taste of something adventurous that most people never think about.
Many films and graphic novel adaptations have been inspired by the writings of Herman Melville, from Marvel and Disney comics with good cause.
One such production in 2020 is a graphic novel about a giant humpback whale called Kulo Luna, that sinks a modern whaling boat, much as depicted in Herman Melville's Moby Dick, except that is this day and age whales have explosive harpoons to contend with, and sonar, from which there is no escape.
Please use our A-Z INDEX to navigate this site