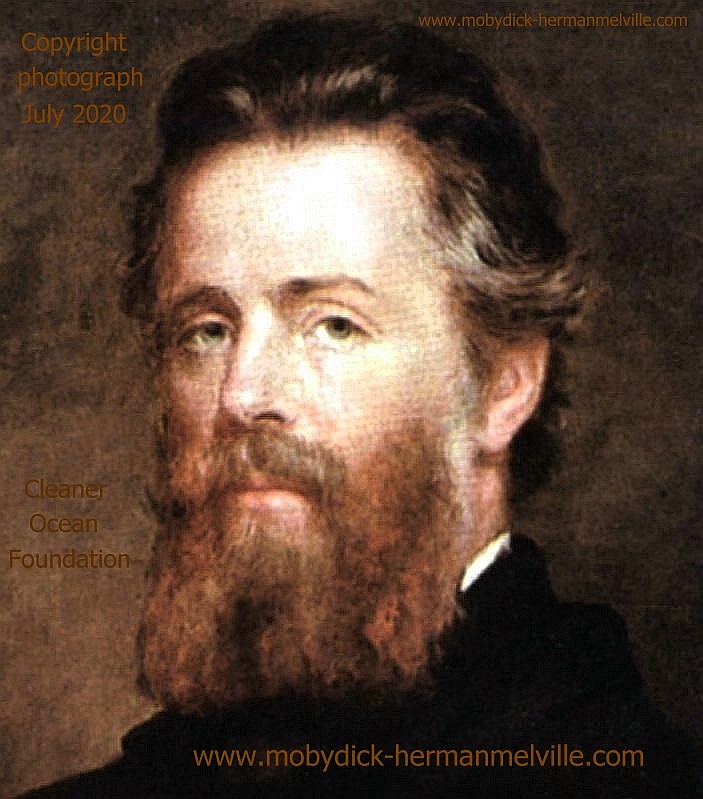 Herman Melville was the author of an account of what we'd now consider an illegal activity, the commercial hunting of whales for oil and meat.
Back <<<
CHAPTER 11. Nightgown
We had lain thus in bed, chatting and napping at short intervals, and Queequeg now and then affectionately throwing his brown tattooed legs over mine, and then drawing them back; so entirely sociable and free and easy were we; when, at last, by reason of our confabulations, what little nappishness remained in us altogether departed, and we felt like getting up again, though day-break was yet some way down the future.

Yes, we became very wakeful; so much so that our recumbent position began to grow wearisome, and by little and little we found ourselves sitting up; the clothes well tucked around us, leaning against the head-board with our four knees drawn up close together, and our two noses bending over them, as if our kneepans were warming-pans. We felt very nice and snug, the more so since it was so chilly out of doors; indeed out of bed-clothes too, seeing that there was no fire in the room. The more so, I say, because truly to enjoy bodily warmth, some small part of you must be cold, for there is no quality in this world that is not what it is merely by contrast. Nothing exists in itself. If you flatter yourself that you are all over comfortable, and have been so a long time, then you cannot be said to be comfortable any more. But if, like Queequeg and me in the bed, the tip of your nose or the crown of your head be slightly chilled, why then, indeed, in the general consciousness you feel most delightfully and unmistakably warm. For this reason a sleeping apartment should never be furnished with a fire, which is one of the luxurious discomforts of the rich. For the height of this sort of deliciousness is to have nothing but the blanket between you and your snugness and the cold of the outer air. Then there you lie like the one warm spark in the heart of an arctic crystal.

We had been sitting in this crouching manner for some time, when all at once I thought I would open my eyes; for when between sheets, whether by day or by night, and whether asleep or awake, I have a way of always keeping my eyes shut, in order the more to concentrate the snugness of being in bed. Because no man can ever feel his own identity aright except his eyes be closed; as if darkness were indeed the proper element of our essences, though light be more congenial to our clayey part. Upon opening my eyes then, and coming out of my own pleasant and self-created darkness into the imposed and coarse outer gloom of the unilluminated twelve-o'clock-at-night, I experienced a disagreeable revulsion. Nor did I at all object to the hint from Queequeg that perhaps it were best to strike a light, seeing that we were so wide awake; and besides he felt a strong desire to have a few quiet puffs from his Tomahawk. Be it said, that though I had felt such a strong repugnance to his smoking in the bed the night before, yet see how elastic our stiff prejudices grow when love once comes to bend them. For now I liked nothing better than to have Queequeg smoking by me, even in bed, because he seemed to be full of such serene household joy then. I no more felt unduly concerned for the landlord's policy of insurance. I was only alive to the condensed confidential comfortableness of sharing a pipe and a blanket with a real friend. With our shaggy jackets drawn about our shoulders, we now passed the Tomahawk from one to the other, till slowly there grew over us a blue hanging tester of smoke, illuminated by the flame of the new-lit lamp.

Whether it was that this undulating tester rolled the savage away to far distant scenes, I know not, but he now spoke of his native island; and, eager to hear his history, I begged him to go on and tell it. He gladly complied. Though at the time I but ill comprehended not a few of his words, yet subsequent disclosures, when I had become more familiar with his broken phraseology, now enable me to present the whole story such as it may prove in the mere skeleton I give.
Next >>>
BOOK CHAPTERS
CHAPTER 26. Knights and Squires.
CHAPTER 27. Knights and Squires.
CHAPTER 29. Enter Ahab; to Him, Stubb.
CHAPTER 39. First Night Watch.
CHAPTER 40. Midnight, Forecastle.
CHAPTER 42. The Whiteness of The Whale.
CHAPTER 48. The First Lowering.
CHAPTER 50. Ahab's Boat and Crew. Fedallah.
CHAPTER 54. The Town-Ho's Story.
CHAPTER 55. Of the Monstrous Pictures of Whales.
CHAPTER 56. Of the Less Erroneous Pictures of Whales, and the True
CHAPTER 57. Of Whales in Paint; in Teeth; in Wood; in Sheet-Iron; in
CHAPTER 61. Stubb Kills a Whale.
CHAPTER 65. The Whale as a Dish.
CHAPTER 66. The Shark Massacre.
CHAPTER 71. The Jeroboam's Story.
CHAPTER 73. Stubb and Flask Kill a Right Whale; and Then Have a Talk
CHAPTER 74. The Sperm Whale's Head—Contrasted View.
CHAPTER 75. The Right Whale's Head—Contrasted View.
CHAPTER 76. The Battering-Ram.
CHAPTER 77. The Great Heidelburgh Tun.
CHAPTER 78. Cistern and Buckets.
CHAPTER 81. The Pequod Meets The Virgin.
CHAPTER 82. The Honour and Glory of Whaling.
CHAPTER 83. Jonah Historically Regarded.
CHAPTER 88. Schools and Schoolmasters.
CHAPTER 89. Fast-Fish and Loose-Fish.
CHAPTER 91. The Pequod Meets The Rose-Bud.
CHAPTER 94. A Squeeze of the Hand.
CHAPTER 98. Stowing Down and Clearing Up.
CHAPTER 102. A Bower in the Arsacides.
CHAPTER 103. Measurement of The Whale's Skeleton.
CHAPTER 104. The Fossil Whale.
CHAPTER 105. Does the Whale's Magnitude Diminish?—Will He Perish?
CHAPTER 108. Ahab and the Carpenter.
CHAPTER 109. Ahab and Starbuck in the Cabin.
CHAPTER 110. Queequeg in His Coffin.
CHAPTER 115. The Pequod Meets The Bachelor.
CHAPTER 120. The Deck Towards the End of the First Night Watch.
CHAPTER 121. Midnight.—The Forecastle Bulwarks.
CHAPTER 122. Midnight Aloft.—Thunder and Lightning.
CHAPTER 125. The Log and Line.
CHAPTER 128. The Pequod Meets The Rachel.
CHAPTER 131. The Pequod Meets The Delight.
CHAPTER 133. The Chase—First Day.
CHAPTER 134. The Chase—Second Day.
CHAPTER 135. The Chase.—Third Day.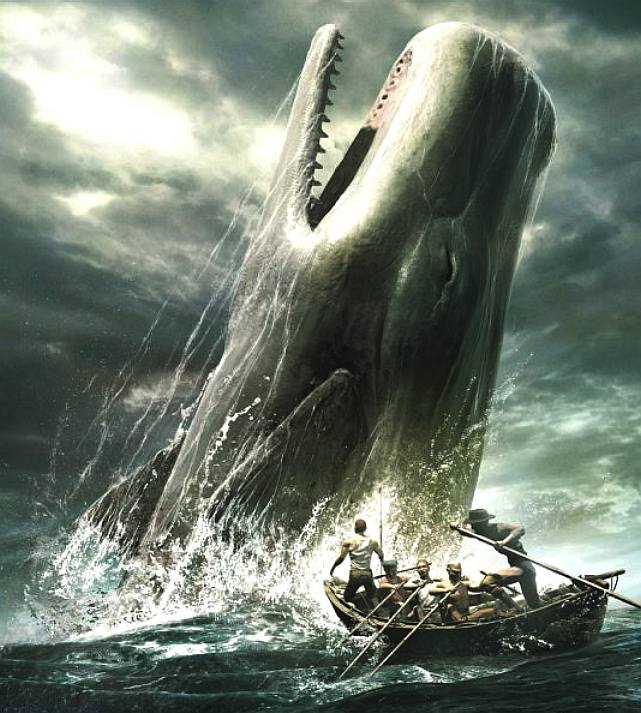 Moby Dick is the antogonist in this story of a great white 'bull' sperm whale that fought back at whalers who tried to harpoon him.
The idea came to Herman Melville after he spent time on a commercial whaler, where stories abounded of the sinking of the Essex in 1821 and Mocha Dick, a giant sperm whale that sank around 20 ships, before being harpooned in 1838.
Herman realised how fixated the sailors became, and he also became with the thought that there was a whale that nobody could catch, that represented a real risk to the whalers hunting whales, in that it was more sport than commercial operations.
Without any doubt this is one of the greatest novels coming out of America at this time and way off the beaten track, making it so interesting, reflecting the state of whaling and the economic importance in the developing the nation - giving the general public a taste of something adventurous that most people never think about.
Many films and graphic novel adaptations have been inspired by the writings of Herman Melville, from Marvel and Disney comics with good cause.
One such production in 2020 is a graphic novel about a giant humpback whale called Kulo Luna, that sinks a modern whaling boat, much as depicted in Herman Melville's Moby Dick, except that is this day and age whales have explosive harpoons to contend with, and sonar, from which there is no escape.
Please use our A-Z INDEX to navigate this site