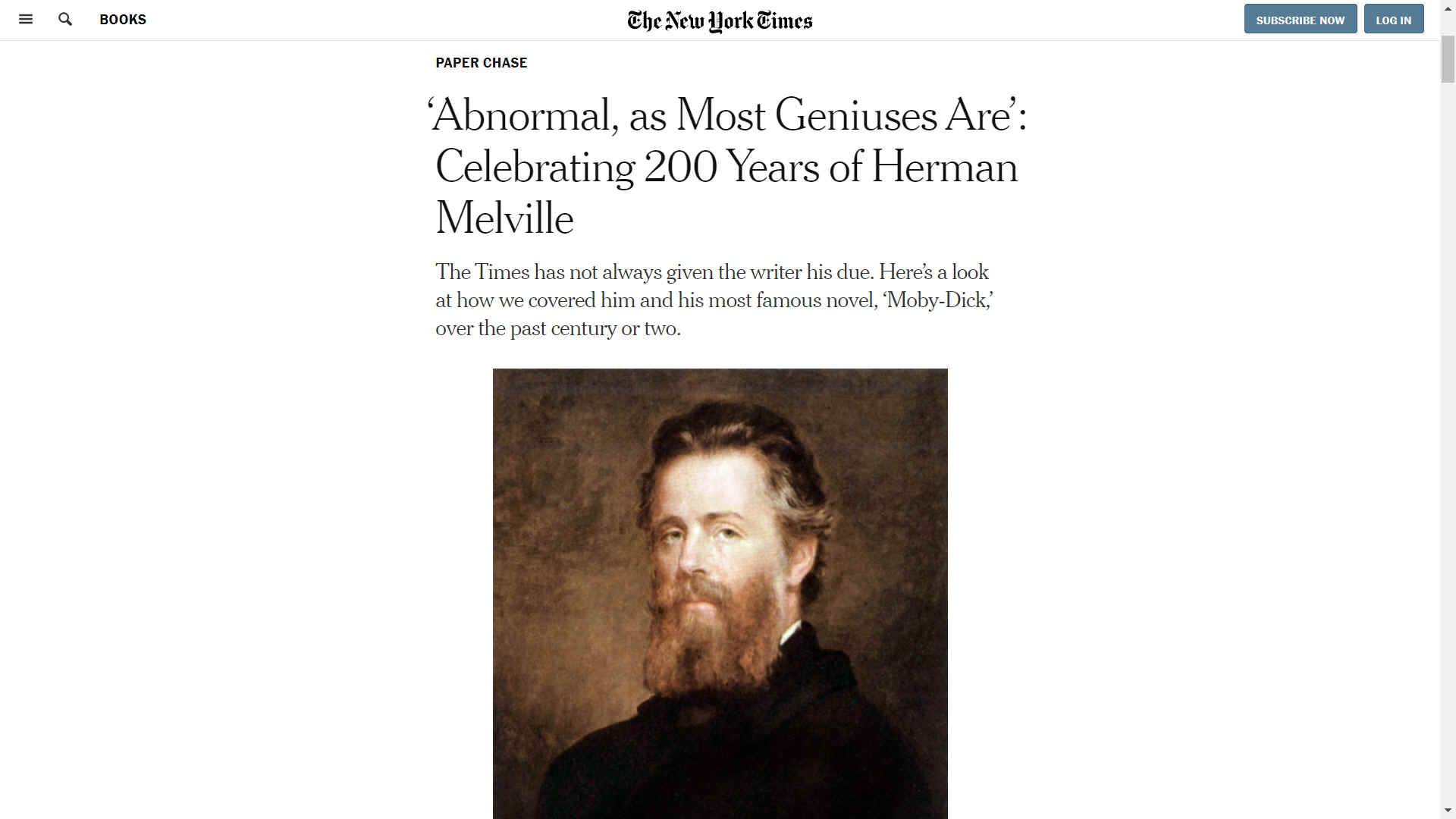 This article reflects the fact that although Herman had written with some success, the critics at the time had not realised the importance of Moby Dick, or the genius of the writer in creating such a story from a mixture of real life experience and factual sinkings by sperm whales. Something that the whaling industry did what they could to suppress.
"When Herman Melville died in 1891, The New York Times barely noted it, listing his obituary after a civil engineer, "the best known criminal lawyer in Connecticut" and "the oldest resident of the Oranges."
With falling fish catches and rising toxicity of seafood from plastic waste, coupled with reducing land for agriculture to grow crops and rear livestock, from desertification, we might as well get used to the idea. Hannibal Lecter was years ahead of his time. Before that we can expect whaling to resume, with extinction looming ever closer.
NEW YORK TIMES AUGUST 2019 - PAPER CHASE

'Abnormal, as Most Geniuses Are': Celebrating 200 Years of Herman Melville. The Times has not always given the writer his due. Here's a look at how we covered him and his most famous novel, 'Moby-Dick,' over the past century or two.

"Moby-Dick" was published in 1851, but The New York Times didn't review it. In fact, The Times didn't mention Herman Melville until 1861 — in a review of somebody else's book, "Adventures in the South Pacific." "The author has borrowed bodily, without giving credit therefor, from Melville's 'Moby Dick,'" the paper complained, while conceding it was a theft the publisher, "the Harpers, may have sanctioned, as they hold the copyright of both books."

July 10, 1876
In 1876, The Times reviewed Melville's work for the first time — a two-volume, 600-page poem about the Holy Land, "Clarel," declaring tartly: "It should have been written in prose. … Verse is certainly not the author's forte."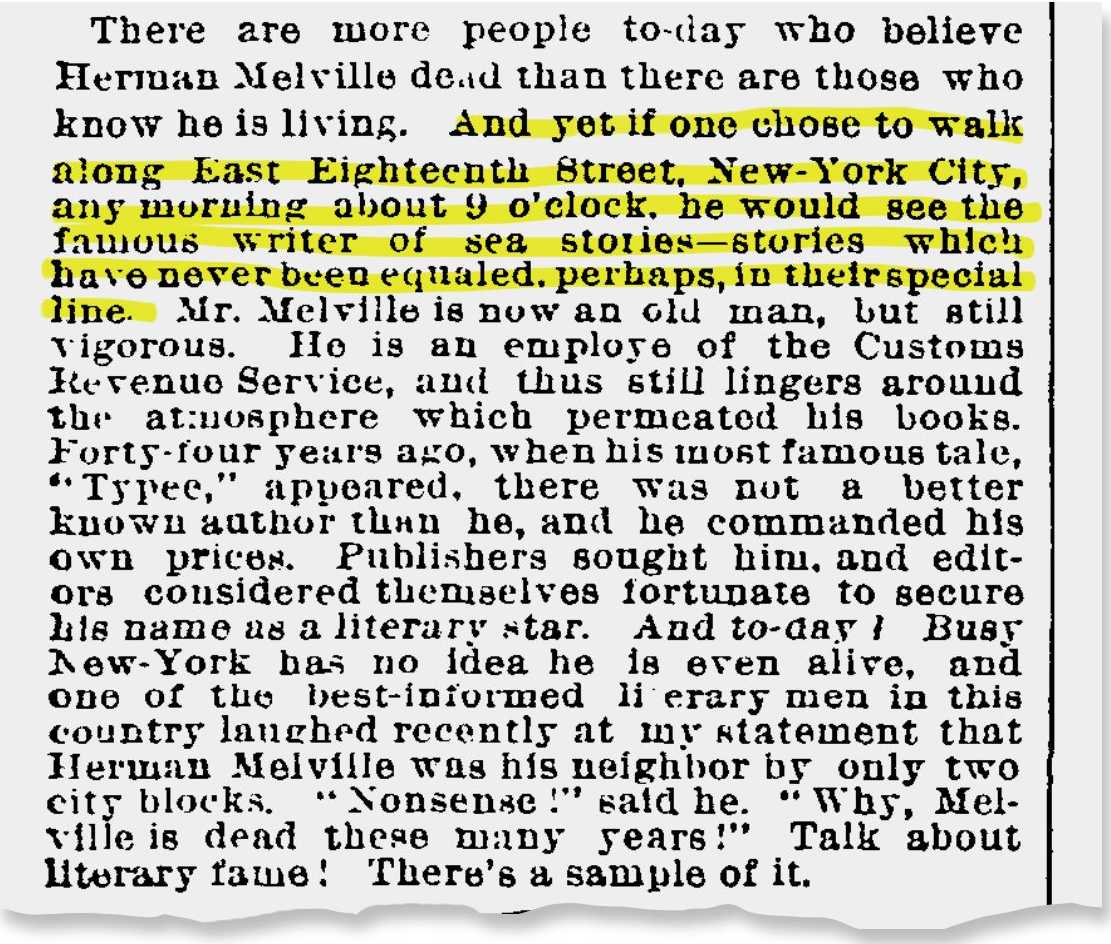 Nov. 12, 1890
In 1890, the paper reported that Melville had slipped so far into obscurity that most New Yorkers did not realize he was still alive. "There are more people to-day who believe Herman Melville dead than there are those who know he is living. And yet if one chose to walk along East Eighteenth Street, New-York City, any morning about 9 o'clock, he would see the famous writer of sea stories — stories which have never been equaled."
Sept. 29, 1891
When Melville died on Sept. 28, 1891, the paper barely noted it, listing him after "one of the founders of Navesink, N.J.," "a civil engineer," "a special partner in the picture-importing firm of Reichard & Co.," "the best known criminal lawyer in Connecticut" and "the oldest resident of the Oranges," to name a few. It also misspelled the title of his most famous book. "Herman Melville died yesterday at his residence, 104 East Twenty-sixth Street, this city, of heart failure, aged seventy-two. He was the author of 'Typee,' "Omoo,' 'Mobie Dick' and other seafaring tales, written in earlier years."
Oct. 2, 1891
Several days later, in lieu of a longer, more formal obituary, The Times ran an appreciation of Melville. "There has died and been buried in this city, during the current week, at an advanced age, a man who is so little known, even by name, to the generation now in the vigor of life that only one newspaper contained an obituary account of him, and this was but of three or four lines. Yet forty years ago the appearance of a new book by Herman Melville was esteemed a literary event."

The paper pointed out that most of Melville's books were out of print, and added, "When a visiting British writer a few years ago inquired at a gathering in New-York of distinctly literary Americans what had become of Herman Melville," no one was able to tell him anything, despite the fact that Melville "was then living within a half mile of the place of the conversation."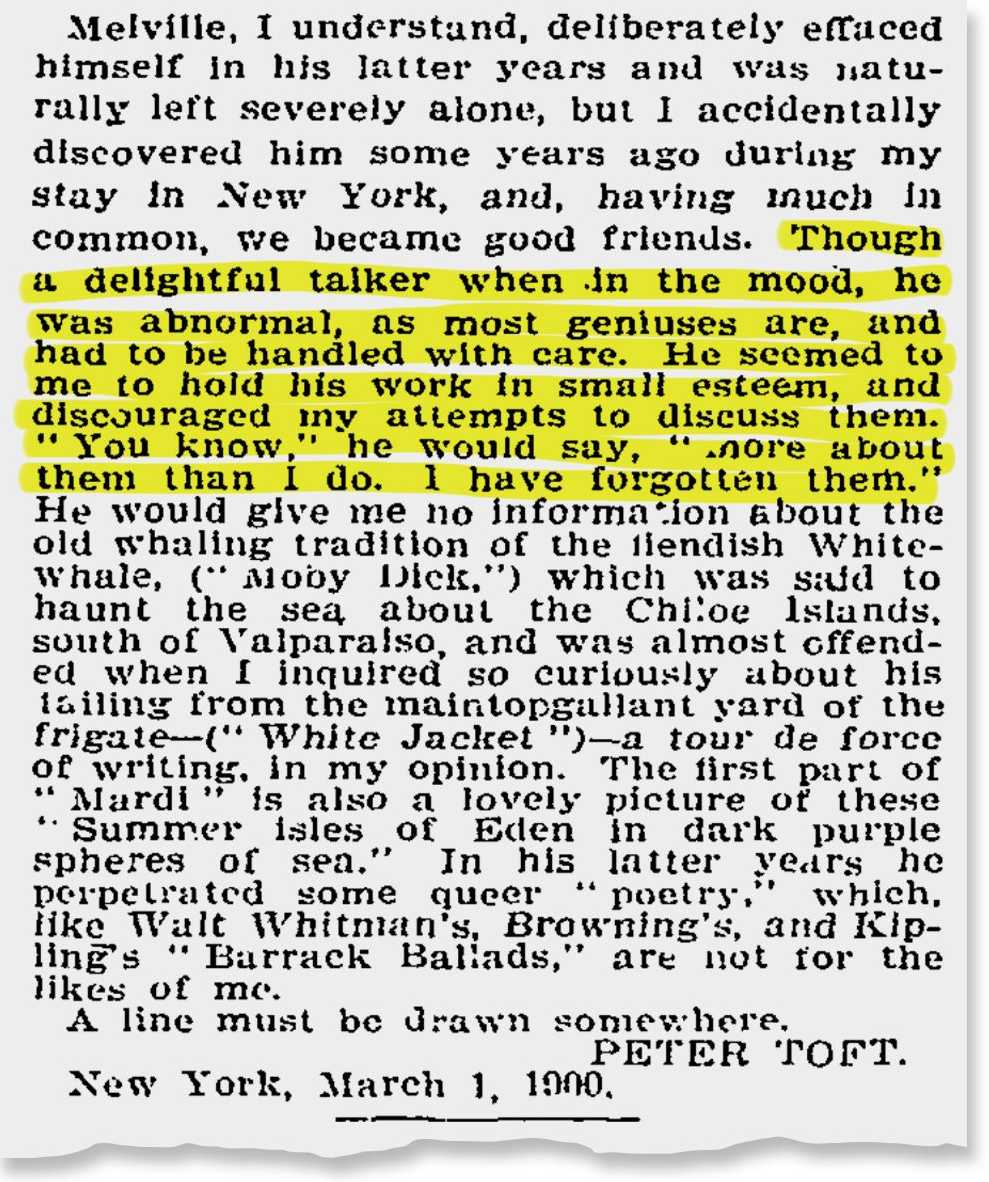 March 17, 1900
A letter to The New York Times Book Review described what it was like to be friends with Melville: "Though a delightful talker when in the mood, he was abnormal, as most geniuses are, and had to be handled with care. He seemed to me to hold his work in small esteem, and discouraged my attempts to discuss them. 'You know,' he would say, 'more about them than I do. I have forgotten them.'"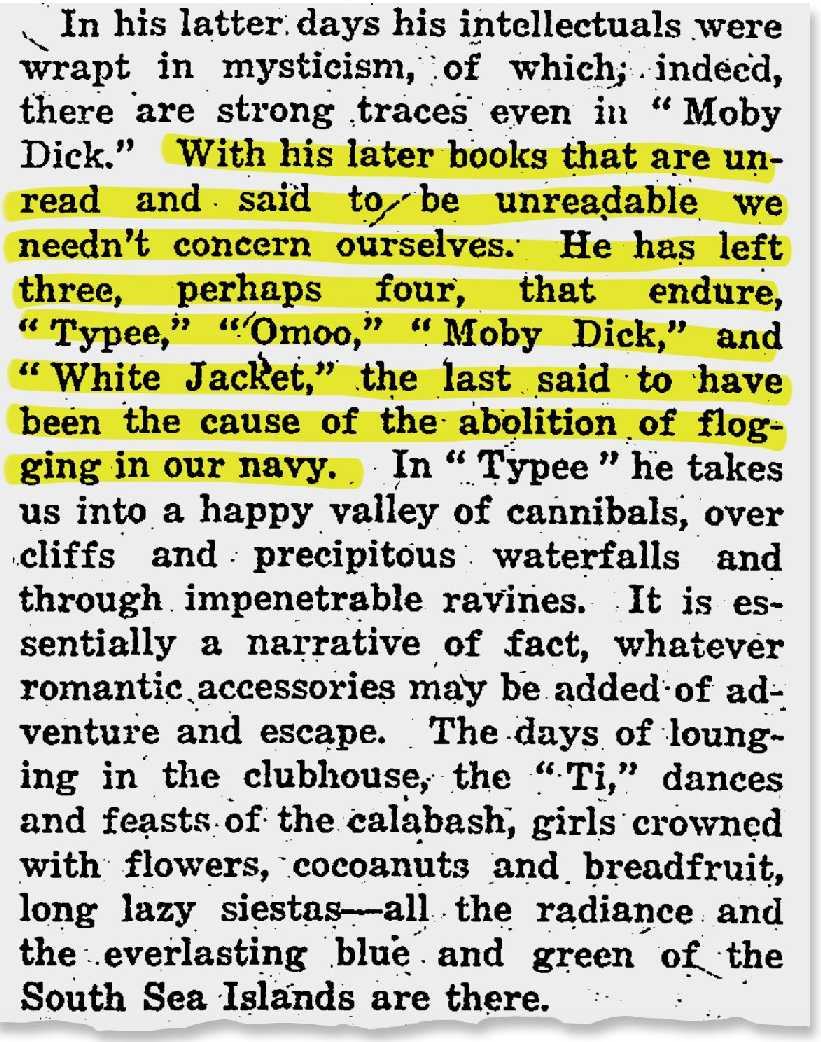 July 27, 1919
The Times marked the centennial of Melville's birth with a celebratory piece in the editorial section. "With his later books that are unread and said to be unreadable we needn't concern ourselves. He has left three, perhaps four, that endure, 'Typee,' 'Omoo,' 'Moby Dick,' and 'White Jacket.'"

Aug. 10, 1924
"Moby-Dick" finally got its Times review, of sorts, when the collected "Works of Herman Melville" was published in 1924. Pointing out the author's long silence during the last three decades of his life, the paper noted, "After 'Moby Dick' there was nothing, in a sense, to be said."
Dec. 14, 1930
"Moby-Dick" has "had to wait long for an adequate illustrated edition," The Times said in a 1930 review of the novel's famous Rockwell Kent edition. The paper liked Kent's drawings well enough ("the drawings which he made for this edition are among the best he has ever put between the covers of a book"), but found fault with the typography and called the book itself a "squat, bulky volume."

By Tina Jordan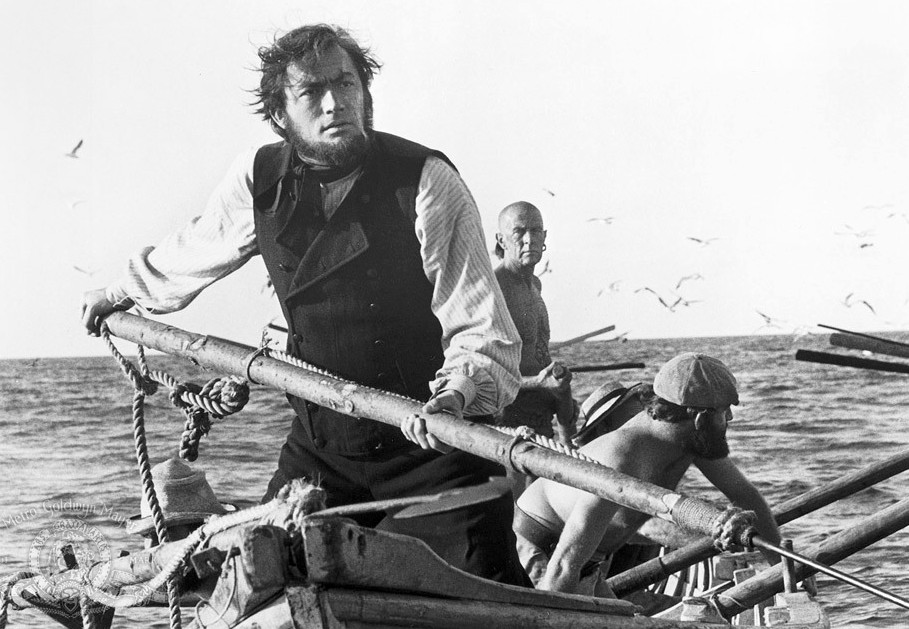 Gregory Peck gave an outstanding performance as Captain Ahab, in the 1956 movie: Moby Dick. He'll take a lot of beating. If they were to combine the special effects of In the Heart of the Sea, with someone as powerful as Gregory Peck to play a new Captain Ahab, we'd be in for a treat. There had been a lot of in between movies of Titanic and King Kong, before they finally made the fantastic CGI versions that have us almost believing the Leonardo and Kate were on the fated ship, or that Naomi Watts had a thing for the big ape.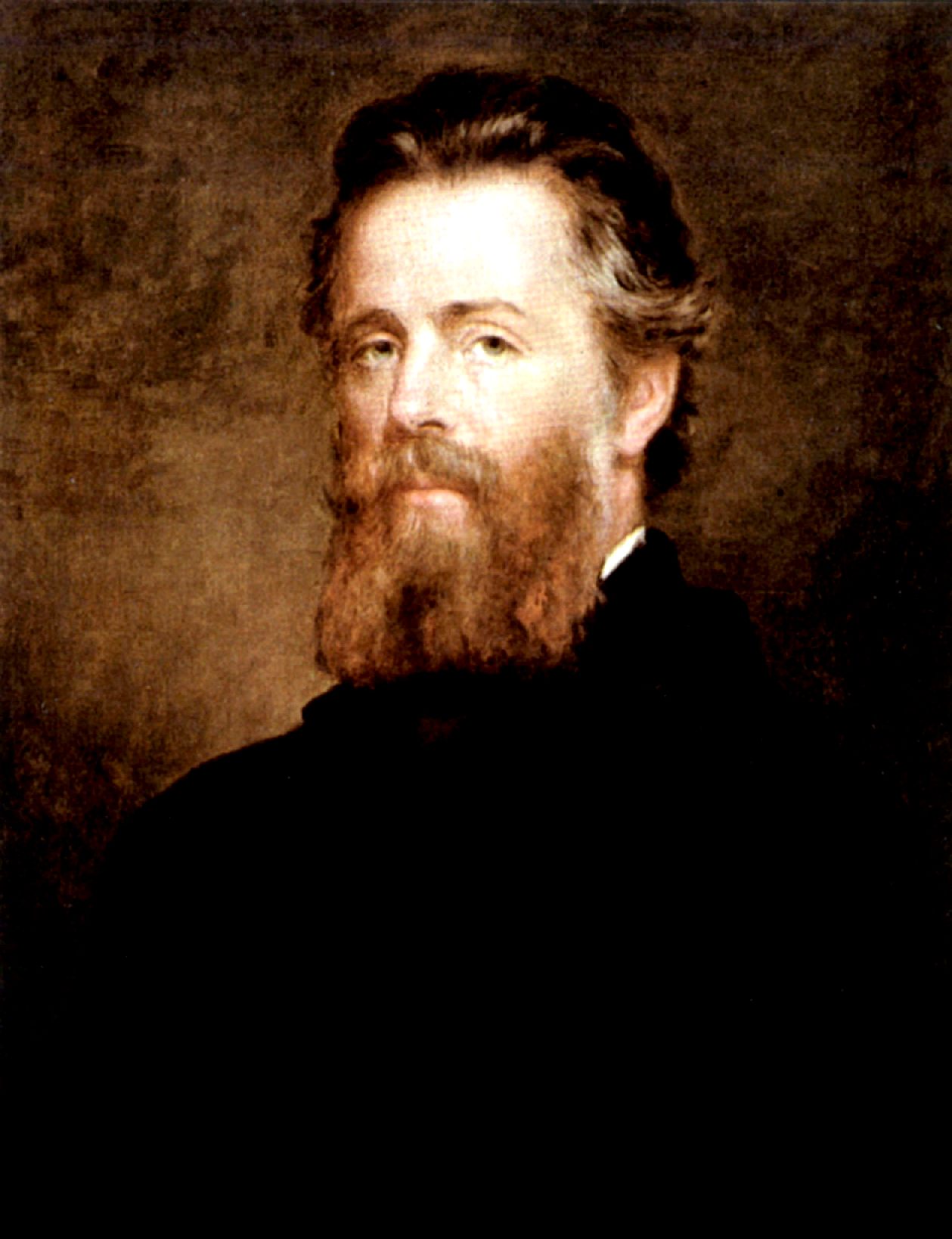 Herman Melville was the author of a novel abut what we'd now consider an illegal activity; the commercial hunting of whales for oil and meat. In capturing the whaling industry at its peak, showcasing the rebellious white whale, in our view he was lobbying for the whales, the innocent victims in his story. Following his death in New York City in 1891, some thirty years later, he posthumously came to be regarded as one of the great American writers.
CONTACTS

Tina Jordan - Follow Tina Jordan on Twitter: @TinaJordanNYT.
Herman Melville's Moby Dick, is the story of a great white sperm whale that fought back at whalers who tried to harpoon him. The idea came to Herman Melville after he spent time on a commercial whaler, where stories abounded of the sinking of the Essex in 1821 and Mocha Dick, a giant sperm whale that sank around 20 ships, before being harpooned in 1838.
Herman Melville was born in New York City on the 1st of August 1819. He died on the 28th of September 1891. He was an American novelist, short story writer and poet of the American Renaissance period. Among his best-known works are Moby-Dick (1851), Typee (1846), a romanticized account of his experiences in Polynesia, and Billy Budd, Sailor, a posthumously published novella. The centennial of his birth in 1919 was the starting point of a Melville revival, when Moby-Dick began to be considered one of the great American novels.
LINKS & REFERENCE

https://twitter.com/TinaJordanNYT
https://www.nytimes.com/by/tina-jordan
https://www.nytimes.com/2019/08/01/books/herman-melville-moby-dick.html
Please use our A-Z INDEX to navigate this site