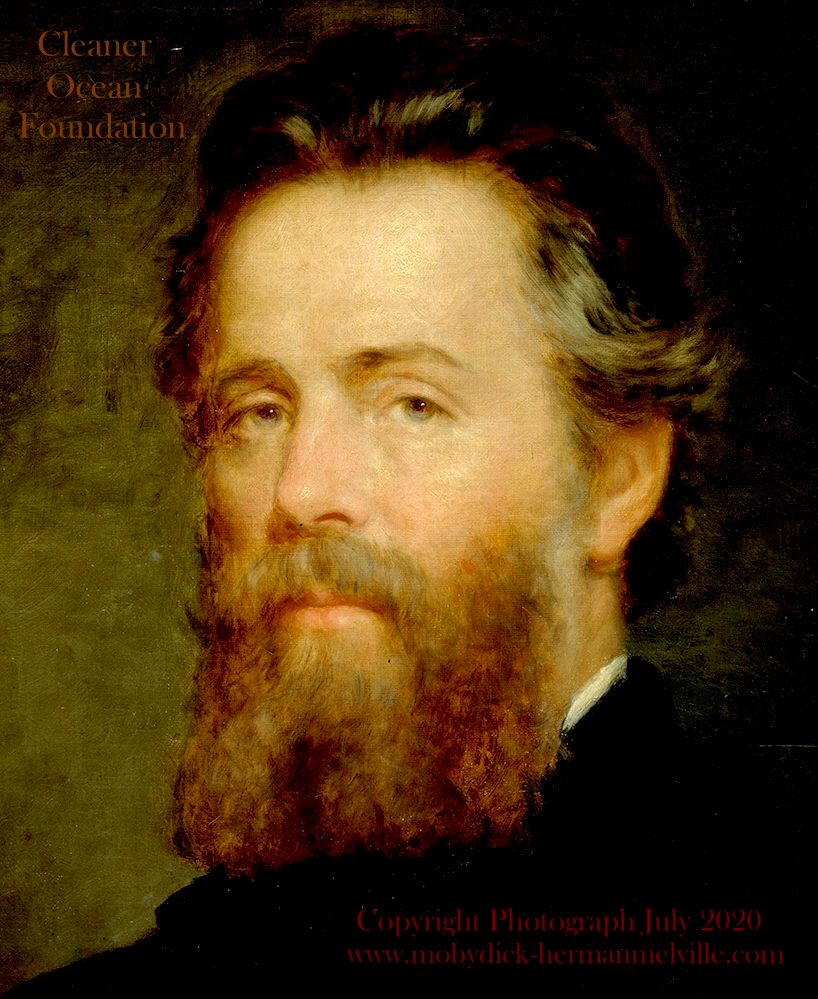 Herman Melville was the author of a novel abut what we'd now consider an illegal activity; the commercial hunting of whales for oil and meat. In capturing the whaling industry at its peak, showcasing the rebellious white whale, in our view he was lobbying for the whales, the innocent victims in his story. Following his death in New York City in 1891, he posthumously came to be regarded as one of the great American writers.
Herman Melville was born in New York City on the 1st of August 1819. He died on the 28th of September 1891. He was an American novelist, short story writer and poet of the American Renaissance period. Among his best-known works are Moby-Dick (1851), Typee (1846), a romanticized account of his experiences in Polynesia, and Billy Budd, Sailor, a posthumously published novella. The centennial of his birth in 1919 was the starting point of a Melville revival, when Moby-Dick began to be considered one of the great American novels.
ABOUT THE MELVILLE SOCIETY
The Melville Society is dedicated to the study and appreciation of the nineteenth-century American author Herman Melville, writer of Typee, Moby-Dick, and Billy Budd, such short stories as "Bartleby" and "Benito Cereno," and several volumes of poetry, including Battle-Pieces and the epic Clarel. We publish the award-winning journal Leviathan which all members receive three times a year and which offers scholarly articles, book and art reviews, Society news, and Melville-related events. Membership is open to all.

The Melville Society, under the auspices of the Melville Society Cultural Project in New Bedford, offers an annual fellowship to help a scholar undertake research on Herman Melville at the Society's Archive in the Research Library of the Whaling Museum in New Bedford, Massachusetts.
MELVILLE SOCIETY OFFICERS & MEMBERS
- Samuel Otter President of the Melville Society - sotter@berkeley.edu
- Matthew Rebhorn Executive Secretary - rebhorme@jmu.edu
- Brian Yothers Editor - Leviathan - byothers@utep.edu
- Zach Hutchins Treasurer - Zach.Hutchins@colostate.edu
- Meredith Farmer Associate Secretary: Programs & Conferences - farmerma@wfu.edu
- Christopher Sten Joint Melville Society Cultural Project (MSCP) Representative
- Robert Wallace Joint Melville Society Cultural Project (MSCP) Representative
- Jennifer Baker Melville Society Cultural Project - jbaker@nyu.edu
- Timothy Marr Melville Society Cultural Project - marr@unc.edu
- Dawn Coleman Book Review Editor - dcolema7@utk.edu
- Mary K. Bercaw Edwards Extracts Editor - maryk.bercawedwards@mysticseaport.org
- Robert Sandberg Melville Society Website Editor - rasandberg@gmail.com
- John Bryant Director of the Melville Electronic Library - john.l.bryant@hofstra.edu
& Founding Editor, Leviathan: A Journal of Melville Studies -
- Wyn Kelley Associate Dir of the Melville Electronic Library (MEL) - wkelley@mit.edu
- Dennis Berthold Ex Officio Member - Executive Committee - d-berthold@tamu.edu
CONTACTS
The Melville Society
c/o Steven Olsen-Smith, Treasurer
Department of English, Boise State University
Boise, ID 83725-1525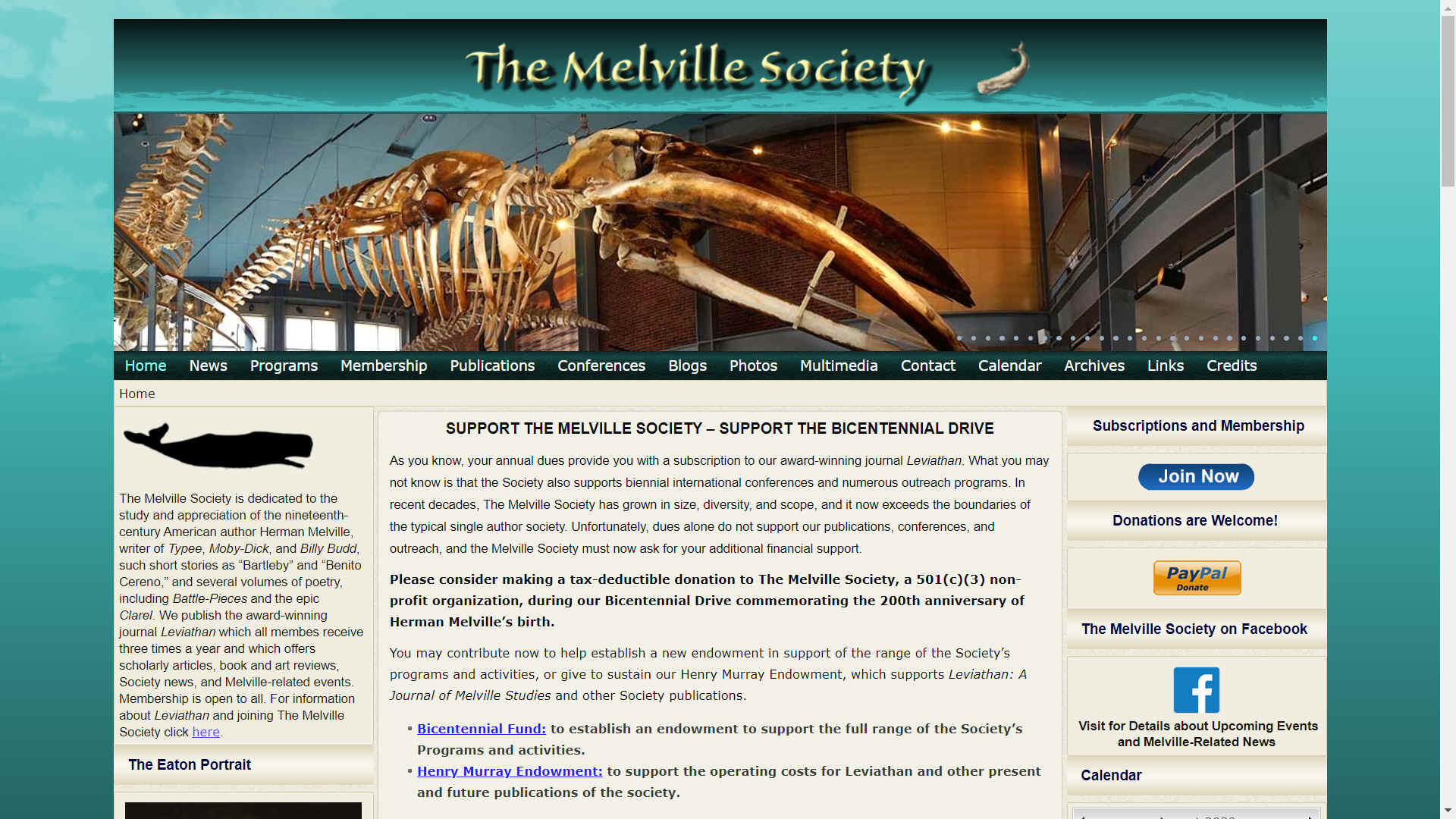 MOBY DICK
Herman Melville's Moby Dick, is the story of a great white sperm whale that fought back at whalers who tried to harpoon him. The idea came to Herman Melville after he spent time on a commercial whaler, where stories abounded of the sinking of the Essex in 1821 and Mocha Dick, a giant sperm whale that sank around 20 ships, before being harpooned in 1838.
TIMELINE
1819: Herman Melville was born in New York City on August 1, 1819, to Allan Melvill (1782–1832) and Maria (Gansevoort) Melvill (1791–1872).

1847: Herman Melville married Elizabeth Shaw on August 04, 1847.

1849: In 1849, Melville acquired an edition of Shakespeare's works printed in a font large enough for his tired eyes, which led to a deeper study of Shakespeare that greatly influenced the style of his next book, Moby-Dick (1851).

1850: His next novel, White-Jacket, was published by Bentley in London in January 1850, and in March by Harper in New York.

1850: The earliest surviving mention of Moby-Dick is from early May 1850, when Melville told fellow sea author Richard Henry Dana Jr. it was "half way" written.

1891: Melville died from cardiovascular disease in 1891.
LINKS & REFERENCE
https://www.whalingmuseum.org/
https://lansingburghhistoricalsociety.org/
https://www.poetryfoundation.org/poets/herman-melville
wallacer@nku.edu
csten@gwu.edu
https://www.mobydick.org/
https://melvillesociety.org/
http://melville.org/
Please use our A-Z INDEX to navigate this site